Benchmark Now! is a free on-line assessment app that features ready-to-use exams for grades 3-12 to help you quickly identify your students' math knowledge and skills as measured by the Common Core State Standards.
Benchmark Now! includes proven assessment items from Houghton Mifflin Harcourt's Assess2Know® Benchmark Item Bank that are aligned with the Common Core. With automatic scoring and built-in reports, teachers gain a clear understanding of student proficiency quickly and easily.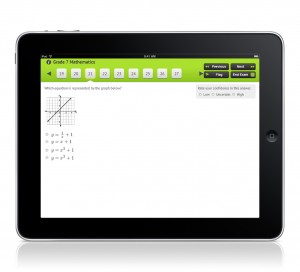 Plus, testing with Benchmark Now! is convenient and easy. It runs on Naiku's cloud-based assessment engine, allowing students to use any web-enabled device.

Posted on
---
---
Quick Question™ by Naiku is classroom response software used for formative assessment and increased student engagement. With Quick Question, teachers can quickly find out what their class knows – and doesn't know – to inform instruction.
Easy to Use
No need to develop an item in advance – just ask questions verbally, from a projected online textbook, from a paper test, or a multitude of other ways.
Works With Any Device
Quick Question requires no installation and works on any web enabled device including a smartphone, tablet, iPod Touch, Kindle Fire, netbook, and laptop.
Inform Instruction
Quick Question allows you to quickly get information about what your students know, and don't know. Use Quick Question to inform instruction and teach with confidence; accelerate to the next topic if they are ready, or re-engage if they are not.
First Step
Quick Question is a great first step in getting data to inform instruction. To go further, check out Naiku. Naiku is a web based solution used for formative, interim, and common assessment in the classroom.  Naiku provides real-time student performance data that educators use for informed and differentiated instruction and data-driven decision making with teacher teams.
Posted on
---
---