Engaging Students Without a Projector
Did you know that you can easily share Quick Question class results with all of your students without the need for a projector?  Whether working with a small group in class or all your students outside of class, simply press the Send Results button and the class results will be instantly sent to every student device, in addition to your screen. (Sample Teacher and Student screenshots shown below)  Note that students can't identify individual answers – only the teacher can do that.  So, the next time you need to break out a small group and check for understanding without projecting to the whole class, or are away from your projector, go ahead and use Quick Question!
Additional tips
Interested in additional tips on how you can use your free Quick Question account?  Visit www.naiku.net/QuickQuestion.  And remember, if you like Quick Question, please share with other educators – they can sign up here for free too!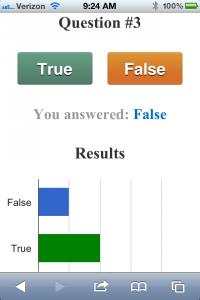 Posted on
Categories
Tags
---
---