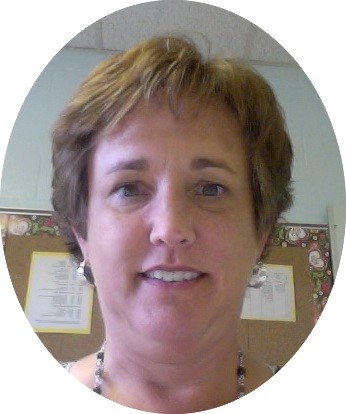 When did you become a teacher and what did you teach:  I have been in education for 29 years.  I was a high school math teacher for 22 years, an 8th grade math teacher for 1 year, and for the last 6 years a math instructional coach.

What does being a teacher mean to you:  As a classroom teacher it was my job to improve the math skills of students as well as confidence in their math ability, which would serve them the rest of their lives.  As a math instructional coach I am privileged to help many math teachers to do the same for their students.
When did you become an instructional coach:  This is my 6th year as a math instructional coach.  My fellow coaches are Linda Wallace, Tabitha Savage, and Vickie Eldridge.  We are all district-wide coaches.  Our system does not have coaches at the school level.
What do you like most about being an instructional coach:  I love working with so many great teachers, helping them to improve their teaching, thereby increasing student achievement.
What are the biggest challenges that you face as an instructional coach:  The biggest challenge is finding time to address the varied needs of all teachers.  I work to help them understand and have access to instructional resources, which are rigorous, up to date, and improve student achievement.
How many teachers and students are in your district:  Putnam County School System has about 700 teachers and 11,000 students.
Your district recently chose to use Naiku to deliver all of your district's benchmark assessments. Tell us a little bit about these assessments. Who developed them? What grades and subjects do they cover? How often are they given? How long are they:  Our district uses Naiku to administer benchmark assessments in Grades 2-8 in ELA and math.  ENI, a private educational coaching company, wrote our questions.  Our district's instructional coaches create the tests in Naiku with these questions.  We give 4-5 benchmarks each year.  The benchmarks are based on our district pacing guide.  Every 2nd – 8th student in the district takes the same ELA and math test. The tests take students an average of 30 minutes.
This is the first year that your district is using Naiku. Can you tell us how it is going:  The transitiion to Naiku has been very easy.  The program is easy to use and understand.  The best part is the support we get from the company.  They are quick to address any questions or concerns we have.
What are the main benefits that Naiku has provided to you and your fellow instructional coaches:  The main benefits of Naiku are the reports.  Teachers are able to view their student's progress as they take the test and have detailed reports upon completion.  Stats are given on student's overall results as well as mastery of each standard.  My fellow instructional coaches and I are able to view results across the district and are able to see student and class progress on the  mastery of standards.
Can you tell us how your teachers and students feel about giving and taking their benchmark assessments in Naiku:  Teachers and students both like Naiku.  We have tried several different types of testing formats and this is their favorite.  Both teachers and students find Naiku easy to use.  Teachers are impressed with the data they gain from Naiku reports.

Posted on
Categories
---
---