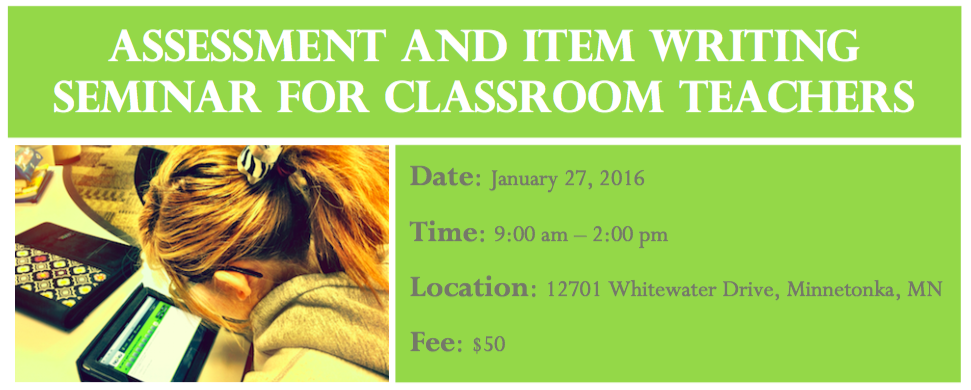 This seminar, co-sponsored by Clear Lake Community School District, is appropriate for K-12 teachers who want to create quality assessments and items in order to get meaningful and actionable results from their classroom assessment practice. The agenda includes a brief introduction to assessment theory and best practices, item writing guidelines, activities to identify and create "good" and "bad" items, and the opportunity to interact with teachers from a range of grades and subject areas. The seminar is intended to benefit all teachers desiring to improve their assessment and item writing; use of Naiku as an assessment platform is not required.
Speakers List
| | |
| --- | --- |
| Dr. Adisack Nhouyvanisvong | Dr. Nhouyvanisvong is an educator and psychometrician who has taught courses in assessment theory and best practices. He has led numerous item development workshops to help teachers craft better assessments and items. |
| Steve Kwikkel | Principal Steve Kwikkel has spent the past 29 years "in the middle". He started out as a 6th grade science teacher and as principal has led technology and instructional initiatives for many middle schools. |
| Colin Schild | Mr. Schild is a licensed middle school math teacher. He helps teachers develop better assessments and engage students with learner-centric assessment practices as Teacher Support Specialist at Naiku. |
| Emily Hill | Ms. Hill is a licensed ELA middle school teacher. She currently serves as the instructional technology integration specialist at Clear Lake Middle School. |
Click here to register for this event.
For more information or to contact us, click here
Posted on
Categories
Tags
---
---