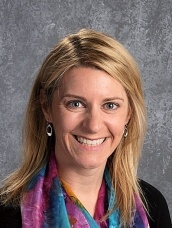 Name: Catherine Ford
What I teach: Regular and Essentials Communications 9, InverPrep (partnership with Inver Hills Community College)
Where I teach: Simley High School
Why I teach:  I teach because I am passionate about education and working with students as they transition into and out of high school. I want to make a difference in the lives of students.
Challenges I face as a teacher: It is challenging to find time to do it all.  We have many demands both in and out of the classroom. Especially after being exposed to new strategies or technologies to use in the classroom, finding time to implement new ideas with integrity, reflecting and adjusting, and re-implementing takes time. Carving out this time to improve the craft is challenging, but a challenge I like to take head-on.
Types of technologies I have used in the past: Beyond using PowerPoint and Prezi for presentations and activities, I have used or currently use turnitin.com, edmodo, and Google products (docs, slides, etc) interactively with students. I am privileged to have an Apple TV that enables me to sync an iPad to the projector and utilize various apps with my students (Socratic Student, Kahoot, Animoto, Haiku Deck, etc). I also have a dedicated iPad cart in my room allowing for daily use with these applications and Naiku.
How I've integrated Naiku into an ELA classroom: Naiku has been integrated in every class I teach. It is the primary tool I use for my formative and summative assessments. It provides the platform for comprehension checks, vocabulary assessments, and trimester finals to name a few.  In certain classes, students are asked to track their progress by logging into Naiku to view their pre and post test scores. In one class in particular, my co-teacher and I use vocabulary pre-tests on Naiku to direct our individualized instruction. In other classes, we set class achievement goals. Naiku provides immediate data and item analysis for the class to track overall class progress and growth towards our goals.
Benefits of using Naiku in my classroom:  Students appreciate the immediate feedback Naiku provides. It has been wonderful for common assessments. I especially enjoy the time saving of auto scoring with built in item analysis as well as the auto transfer to my grade book. When I think of all the time I have saved, I am delighted. Using the item analysis feature, I can easily identify individual or class performance on a test item particularly the 2nd and 3rd most common incorrect answers. I can then reflect on if the misunderstanding was likely a result of instruction or other contributing factors.
How Naiku benefits my students:  Students benefit from the immediate feedback and ability to track their progress. Feedback is critical to learning. By receiving immediate feedback, and potentially access to the correct answers, students increase their ability to learn, retain information, and track their educational goals.
How receiving student feedback (confidence & reflection) helps me as a teacher: When students use this feature, I feel that I have a better sense of how they felt about their performance. Sometimes, students report low confidence when if fact they performed quite well. This prompts me to check in with that particular student and provide affirmation or ask why they felt that way.  The reverse is true for students who report high confidence and score low. I can identify and question the mismatch.
Advice for other teachers currently using or thinking about using Naiku: Baby steps are good. When I first started using Naiku, it was enough for me to have an assessment or 2 in the program in order to figure out how to better use the program and fit it to my needs. With each new trimester or class, I try to add a little more and take advantage of another feature. Now I am not intimidated about entering assessments or re-opening or closing tests. Currently, I am working towards aligning each question on the final with a standard and using the data analysis as a means to improve and individualize my instruction. I could not have done it all at the beginning. It has been the slow and consistent usage that has increased my confidence using Naiku and has allowed me to venture out and use many of the wonderful tools it offers.
Posted on
Categories
---
---