If you're a Naiku user, you already know that you can do standards-based scoring with Naiku. When you align your test questions to national, state, or local standards (or learning targets), you know that your students' results are scored by those standards. For each student, you can track and monitor their proficiency status by standard. Students are automatically grouped into one of three proficiency levels (Not Proficient, Approaching Proficient,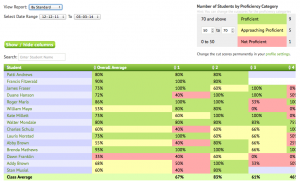 and Proficient) based on cutscores that you set. Below is a Class Performance report where you can see your students' scores by standard.
But did you know that you can also do standards-based reporting with Naiku?
If you do standards-based scoring and reporting, you can transfer those scores into your gradebook directly from Naiku. From the Class Results page for any assessment (see sample below), you can choose to transfer the proficiency scores for any standard directly into your gradebook.

You can find more on information proficiency scores by standards and how to transfer them into your gradebook in this Naiku Support article.
As always, we welcome your feedback. So write us a note and let us know how you do standards-based scoring and reporting.
Posted on
Categories
---
---