| | |
| --- | --- |
| We have had an exciting few weeks here at Naiku! You've probably already seen from our Twitter messages that we advanced to the semi-finalist round in the Minnesota Cup, the nation's largest business competition as well as part of Project Skyway, a start-up accelerator in Minneapolis. | |
---
While all of this was going on, we continued to work hard on lowering the barrier for teachers to use Naiku in their classroom. In addition to supporting desktops, laptops, netbooks, iPhone, iPod, iPad, Blackberry and Android, (as well as scanned paper tests), we now support integration with classroom response devices (often known as "clickers")!
Often, when we are out working with customers, they ask if there are ways Naiku could be used in more classrooms. They usually mention that they have a set or two of classroom response devices. Classroom response teachers, we took the hint, and have a solution you!
In the last part of May, we started working on how to interface the devices with Naiku. In the first part of June, we did a field test of the integration with Turning Technology and their ResponseCard NXT devices. These are really cool devices, and classroom sets are well-priced. Their partnership and technical team was great to work with, and made sure we had everything needed to get the integration finished and done right.
The field test was with an AP Biology class and two Ecology classes. The students each used an NXT to input their answers to the test questions. If you haven't seen the NXT cards, they're very cool, because they enable a student to work through the test at their own pace.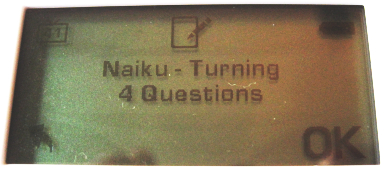 Because Naiku works in real-time, teachers see students working through their tests right from their own web browser even with the Turning NXT cards!  Naiku works in a blended mode too, so if you have some students using classroom response devices, mobile phones, iPads or laptops, the same test can be taken and all of the results come together on Naiku.
As soon as the students finish taking the test, all of the results are available, down to how each student performed on the state standard benchmarks and the reliability and validity measures for the test.  The integration also supports the more basic "voting-style" classroom formative testing as well.  This is all visible from the teacher's web browser!

| | |
| --- | --- |
| Sign-up to see Naiku in action, and give us a call if you're ready to leverage your investment in classroom response technology with Naiku! | |
Posted on
Categories
---
---