Did you know that you can set your own proficiency cutscores? 
Quick Tip: The Class Performance shows you how your class as a whole and how each individual student performed on each assessment or each standard. Based on their performance, students are automatically categorized into one of three proficiency levels (Proficient, Approaching Proficient, and Not Proficient). The default cutscore for Approaching Proficiency is 60%. The default cutscore for Proficiency is 70%. However, you can change these cutscores to reflect your own levels of proficiency. This is done by inputting the cutscores right into the table as shown below.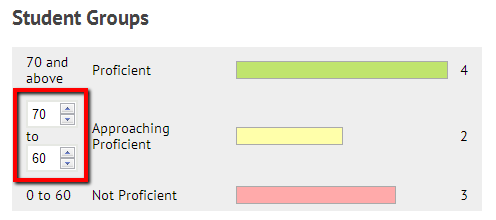 Remember, to see the Class Performance report, click on the class and then click on the Class Performance tab.

Posted on
Categories
---
---