Did you know that you can preview how a test will look for a student?
Quick Tip: After you create a test, it is often useful to see how it will look to students when they take it. You can do this by selecting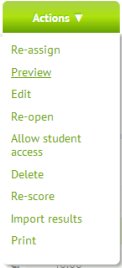 Preview under Actions. This shows  you how the test will look to students as they take it. It's important to see this preview when you have many items with images and graphics. You'll want to see  how visible the images and graphics are to the students. Make sure they are not too big nor too small. More importantly, when you have constructed-response (CR) items that are set to be auto-scored, it's important to do this preview to see how the items will be scored. For example, if the correct answer to an item is "Minnesota" and you have set it to allow for mis-spellings, it's important to see that if a student typed in "Minnesootah", whether that will be scored as correct or incorrect. To see the scoring for theses items, when you finish the preview, click on "End Exam" as a student would do when they finish the assessment. You'll get a score for the test you just previewed. Don't worry, your scores are not stored. You can do the preview as often as you wish.
Posted on
Categories
Tags
---
---