Did you know that Naiku has a Curriculum Map feature that helps teachers organize their yearlong standards and learning targets?
Curriculum maps are useful tools that allow teachers to see the "big picture" of their curriculum, instruction, and assessment process. In Naiku, your state standards or learning targets serve as the foundation of the curriculum map. For each standard or learning target, you can attach assessments and learning resources. This allows you to see the big picture of the skills that will be taught, how they will be assessed, and what additional instructional resources will be provided to students.
To create a curriculum map, from the Curriculum Maps page, click "New Map." This will direct you to the Curriculum Map creation page, as seen in the screenshot below. Here you are able to give your curriculum map a name, set the sharing status for your map, and assign the map to any of your classes.  As you can see here, I have set my title to "Naiku Math Team Curriculum Map," my sharing to "district,", and I have assigned this Curriculum Map to my "Math 1" class. Now click "Create" to finish creating your Curriculum Map.

Now that you have created you Curriculum Map, you have the ability to add standards or learning targets to your map.  To add standards or learning targets to your map, click "Add Standard" next to the green plus sign.  As shown in the screenshot below, this will direct you to a pop out screen that will allow you to create your own standards or choose from existing standards.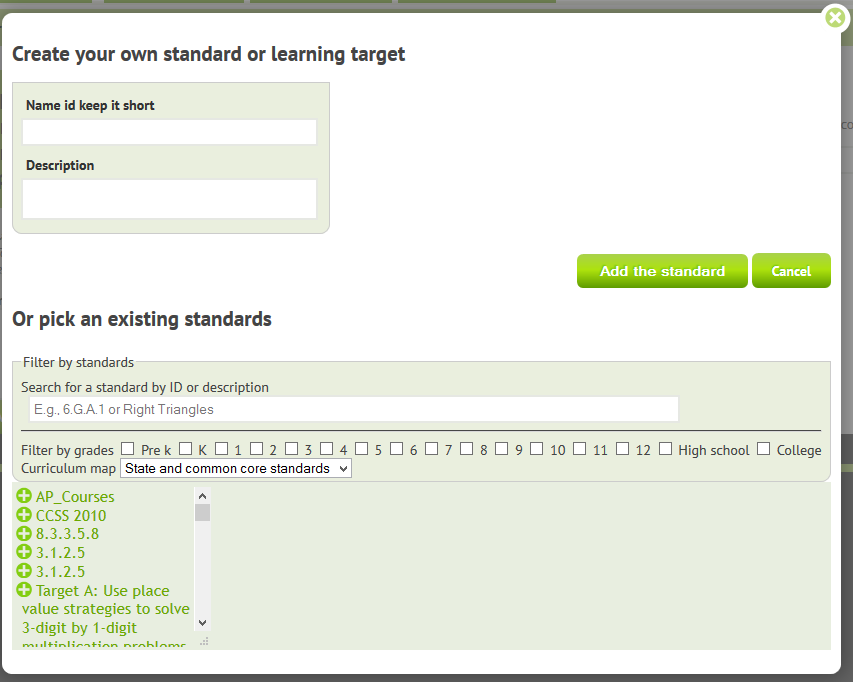 Add New Standards
To create a map of existing standards, navigate to the Common Core or State Standard of your choice. Click on the "+" sign to add the standards. These Common Core or State Standards act as a base to for your curriculum map. Below, the screenshot shows that I have chosen a sample curriculum map for Grade 8 Mathematics. This curriculum map is based on the Common Core Grade 8 Mathematics Standards.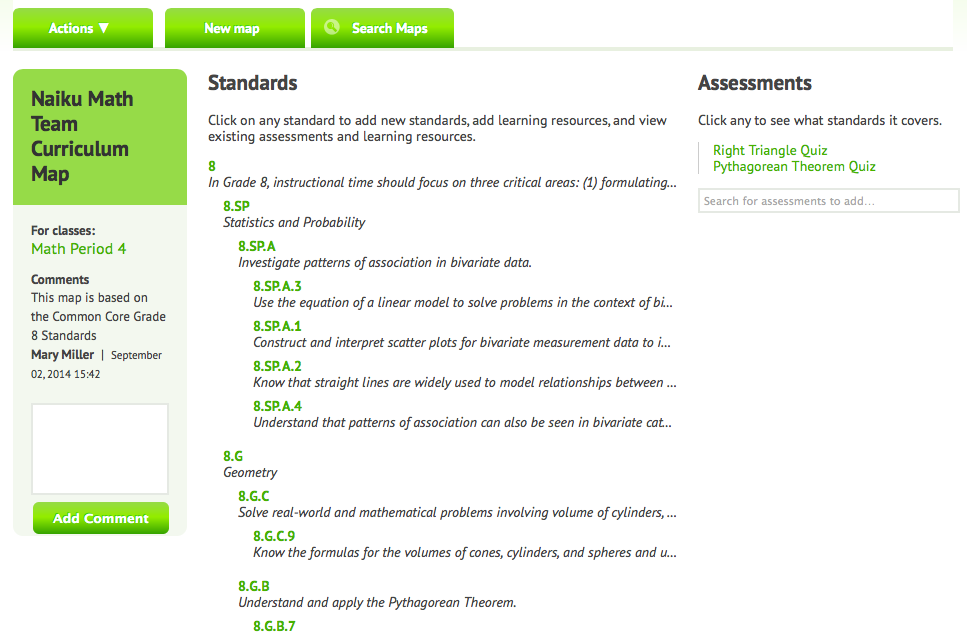 To add a new standard (i.e., your own learning target), click on any standard in your curriculum map. You will see the standard highlighted and you will have the option to add a new standard. All you need to enter is a short number of the standard and a short description. In the screenshot below, note that standards 8.G.B.7.1 and 8.G.B.7.2 are local learning targets that were added to the curriculum map.
Posted on
Categories
Tags
---
---