Using Exit Tags with Quick Question
Did you know that you can easily use exit tags with Quick Question? Starting an exit tag is easy – just press the exit tag button just as you would any other question type and the student devices are instantly updated. Students have predefined choices they can select (see student screenshot below) and can also add additional free field information. Remember that only you as the teacher can identify individual student responses (Quick Tip #1). So, the next time you need to check for understanding before moving on, use exit tags with Quick Question!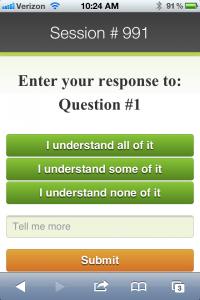 Additional tips
Interested in additional tips on how you can use your free Quick Question account? Visit www.naiku.net/QuickQuestion. And remember, if you like Quick Question, please share with other educators – they can sign up here for free too!
Posted on
Categories
---
---