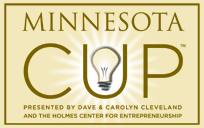 Yesterday, the Naiku team gave the presentation of our lives. We expressed our passion for making a positive impact on education. We explained our plans to do that with Naiku. Afterwards, the Minnesota Cup judges selected Naiku as the winner of the High Tech Division. We are honored that the judges recognized the importance of education and the work that Naiku is doing in educational technology.
Next week, we will compete against the other division winners. It will be a fun and exciting competition. We aim to bring home the coveted cup. Regardless of the outcome, it will be an exciting start to a new school year.
Wish us luck! And good luck to all of you for the new school year!
You can find more information about the MN Cup by reading the coverage from the following news agencies: TECHdotMN, Star Tribune, and Twin Cities Business.
Posted on
Categories
Tags
---
---