You may have noticed the new layout of the Sign-in page.
Teachers and students with accounts in Naiku can continue to simply log in with their usernames (aka login) and passwords. Do so on the left-side of the page. See image below.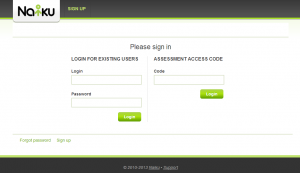 The Access Code login method (on the right side of the page)  is for students whose teachers have given them an access code for a test. Teachers who have signed up for a free Benchmark Now! account, you should still sign in on the lef-iside of the page with your login and password.  After assigning the Benchmark Now! test to your class and giving your students the access code, direct your students to sign in to take test by entering the access code on the right side of the page.
Posted on
Categories
Tags
---
---